Important Factors When Purchasing A Bandsaw Blade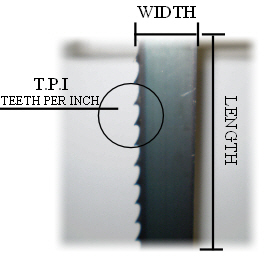 Width Of Blade

It is important to have the correct width of blade for each application, a common mistake people make is trying to use the same blade for all types work. For straight cutting ( Ripping ) a wide blade should be used so as to help keep a straight line e.g. 5/8" or above. For Curved cutting ( Scrolling ) a narrow blade should be used e.g. 1/4" or 3/8".
T.P.I

Having the correct number of teeth Per Inch for the thickness of material you are cutting is just as important as having the correct width of blade. The general rule for this is to have NO LESS THAN 2 TEETH IN THE CUT and NO MORE THAN 10 TEETH IN THE CUT.
BLADE LENGTH

Below is a list of the common Bandsaw Machines and their Blade Lengths.



| | | | |
| --- | --- | --- | --- |
| MAKE | MODEL | IMPERIAL | METRIC |
| | | | |
| Burgess | BK3 | 4'8 1/2" | 1434MM |
| Clarke | | 5'10 1/4" | 1784MM |
| Coronet | IMP | 5'7 1/2" | 1715MM |
| Delta | 28-185 | 4'8 1/8" | 1425MM |
| Delta | 28-190 | 6'10" | 2090MM |
| Dewalt | DW738 | 6'10 1/2" | 2095MM |
| Dewalt | DW739 | 6'10 1/2" | 2095MM |
| Dewalt | BS1310 | 6'10 1/2" | 2095MM |
| Dewalt | DW876 | 7'3 1/4" | 2215MM |
| Dewalt | DW100 | 4'11 1/2" | 1510MM |
| Elektra Beckum | BAS250G | 5'7 1/2" | 1715MM |
| Elektra Beckum | BAS315/316G | 7'4" | 2235MM |
| Elektra Beckum | BAS500 | 11'1" | 3380MM |
| Elu | 3401/3501 | 6'10 1/2" | 2095MM |
| Elu | 3601 | 7'3 1/4" | 2215MM |
| Inca | | 6'1" | 1855MM |
| Jet | JWBS14 | 8'4 3/4" | 2560MM |
| Jet | JWBS16 | 10'3" | 3125MM |
| Jet | JWBS18MK1 | 11'1" (Flat Doors) | 3380MM |
| Jet | JWBS18MK2 | 11'5" (Bowed Doors) | 3480MM |
| Jet | JWBS20 | 12'6 1/2" | 3820MM |
| Kity | 413 | 6'2" | 1880MM |
| Kity | 612 | 6'10 1/2" | 2095MM |
| Kity | 613 | 7'6 1/2" | 2300MM |
| Kity | 560 | 14'7 1/2" | 4445MM |
| Lurem | 400 | 9'7" | 2920MM |
| Meber | 400 | 10'4" | 3150MM |
| Meber | 500 | 13' | 3960MM |
| Meber | 600 | 14'6 1/2" | 4430MM |
| Meber | 700 | 16'11 1/2" | 5169MM |
| Minimax | S45 | 11'11 1/4" | 3634MM |
| Minimax | S45 Old Model | 12'4" | 3759MM |
| Minimax | P32 | 7'1 1/2" | 2170MM |
| Minimax | S800P | 18'4" | 5588MM |

| | | | |
| --- | --- | --- | --- |
| MAKE | MODEL | IMPERIAL | METRIC |
| | | | |
| Record | RSBS10 | 5'10 1/4" | 1784MM |
| Record | RSBS12 | 7'4" | 2235MM |
| Record | RSBS14 | 8'2" | 2490MM |
| Record | BS250 | 5'10 1/4" | 1784MM |
| Record | BS300E | 7'9 1/4" | 2369MM |
| Record | BS300X | 7'9 1/4" | 2369MM |
| Record | BS350 | 8'7 1/2" | 2629MM |
| Record | BS500 | 11'10" | 3607MM |
| Rexon | BS10/R | 4'8 1/2" | 1434MM |
| Rexon | BS10SA/KA | 6'1" | 1855MM |
| Rexon | BS12RA | 5'2" | 1575MM |
| Scheppach | HBS32 | 6'10 1/2" | 2095MM |
| Scheppach | BASATO1 | 4'10 1/2" | 1486MM |
| Scheppach | BASATO3 | 7'9 1/4" | 2369MM |
| Scheppach | BASATO4 | 9'6" | 2895MM |
| Scheppach | BASATO5-2 | 11'3" | 3430MM |
| Scheppach | HBS500 | 11'3" | 3430MM |
| Startrite | 301 | 7'4" | 2235MM |
| Startrite | BANDIT | 7'4" | 2235MM |
| Startrite | 301S | 7'8" | 2340MM |
| Startrite | 351 | 8'6" | 2590MM |
| Startrite | 351S/E | 9'4" | 2845MM |
| Startrite | 352 | 9'4" | 2845MM |
| Startrite | 352SB | 11'10" | 3607MM |
| Startrite | 401E | 12'6" | 3810MM |
| Startrite | 401S | 12'6" | 3810MM |
| Startrite | 440R | 13'6" | 4115MM |
| Startrite | 501S | 13'5" | 4089MM |
| Startrite | 581S | 15' | 4572MM |
| Startrite | 681S | 16'6" | 5029MM |
| Startrite | 781S | 18'7" | 5664MM |
| Startrite | 941S | 21'10" | 6655MM |
| Warco | | 5'4 1/2" | 1638MM |
| Woody | | 4'8 1/2" | 1434MM |